Post by kieran on Dec 17, 2018 17:51:07 GMT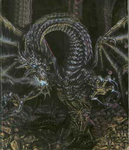 I'm kinda surprised Knights of Doom was never reprinted by Wizard considering they republished 2 of Jonathan Green's Puffin books and published 4 new books of his. I imagine Scholastic could probably get Knights of Doom published if they wanted fairly easily.
With the others it would probably involve negotiating with the authors (or in Revenge of the Vampire's case, Keith Martin/Carl Sargent's next of kin as he sadly passed away recently). Feedback from some authors during the Wizard relaunch was Wizard weren't giving the authors a very good deal - not sure if Scholastic is any better but based on the relative cheapness of the Scholastic books compared to the Wizard books, I can't imagine they'd be promising the authors much.
Also Magehunter has a lot of references to the Riddling Reaver and Slaves of the Abyss. It's not necessary to read them first or anything but it may make it unlikely to be reprinted before either of them is. And then you can't reprint Riddling Reaver without reprinting the Fighting Fantasy RPG book. And I think Paul Mason was one of those authors who turned down Wizard books (I could be wrong here). It's also one of the less kid-friendly books (as is Revenge of the Vampire) which seems to go against Scholastic's approach to the series. So Magehunter's chances in particular aren't that great in my opinion.