Post by thealmightymudworm on Jul 2, 2018 13:43:59 GMT
Recently, as part of a birthday, I went to see the
Asterix in Britain exhibition
at the Jewish Museum in London, which celebrates the life of
René Goscinny
. (The title of the exhibition is a touch misleading as Asterix is only represented as a section and is not all-conquering.) As I thought that it's likely many of the posters here grew up with Asterix – I know
hynreck
did – and there were
gamebook spin-offs
it seemed worth saying something about it here, (and stealing other people's pictures off
Twitter
, natch).
I didn't even realise Goscinny was Jewish, but it seems that he was the child of Polish Jews but born in France before being whisked off to Argentina aged 2 where his dad had a job. He spent his whole childhood there which was lucky for him as he was able to draw mocking cartoons of Nazi solders in safety rather than spending his teenage years as a Jew in occupied France. He did go back to do military service there shortly after WWII ended in preference to doing it in the US, to which he'd recently moved, following the sudden death of his father.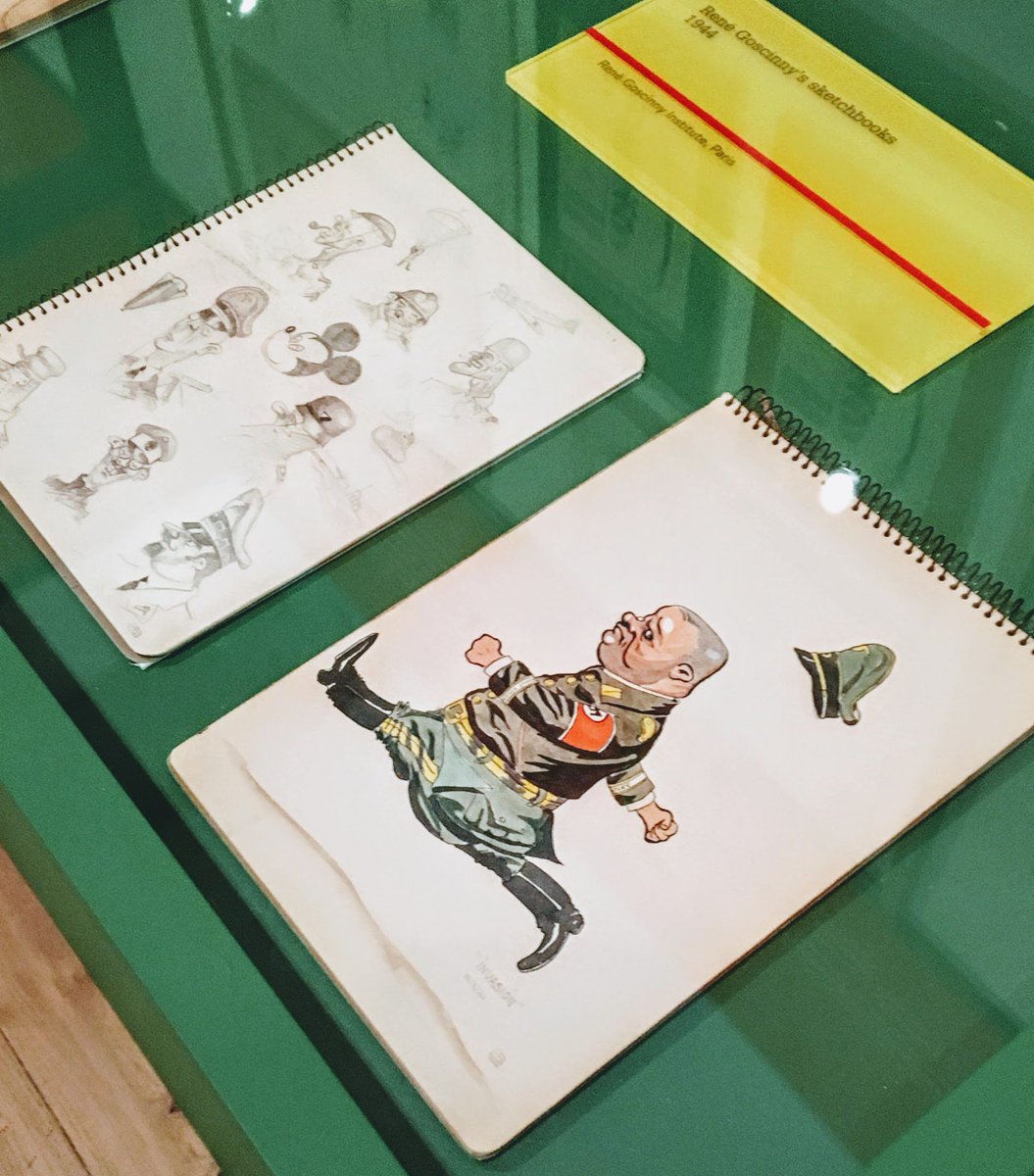 Possibly all those influences helped when writing jokes based on many countries for Asterix and others.
Goscinny started out very much as a cartoonist, trying to get things published in the New Yorker, but he became poverty-stricken until a lucky break saw him start work in a small studio. He moved on swiftly to become art director at a publisher. Goscinny only worked in New York for a few years before the head of the World Press Agency asked him to head over to their Paris offices, but it was an important time as he made some important contacts, notably Maurice de Bevere (Morris) and the soon to be creators of MAD magazine.
I've already started to forget some of the early cartoons Goscinny worked on at the time which were up in the exhibition, though I remember there was a detective dubbed 'Dick Dicks' (be careful Googling that one). There were only a few which he created entirely solo and once back in Paris he increasingly worked as a writer with the bulk of the drawing work passed on to other artists, notably a certain Albert Uderzo.
There were a couple of 'screenplays' for cartoons created by Goscinny in the exhibition which showed what a detailed process it was with a very precise description of all the activity that an artist needed to include in each frame set opposite any actual text.
Goscinny worked on several cartoons over 5 years with various Belgian artists. Most significant at the time was that Morris, who had been creating a cartoon themed on the Wild West,
Lucky Luke
, single-handedly, wanted some new ideas. By 1955 he knew Goscinny was someone who excelled at creating visual humour and called him in.
He worked on the series until his death and those two decades are considered its golden era. He introduced some characters including Rin Tin Can, an idiot version of Rin Tin Tin, who might dutifully dart off on being sent for urgent help, only to trot back with his owner's slippers. The dog was so popular he was eventually spun-off into his own series.
Alongside a number of Lucky Luke strips and a video, the exhibition has a 'shadow wall' where if you hit a button it flashes an image of your action pose onto the wall. This is in honour of Lucky Luke's trademark ability to 'shoot faster than his own shadow' (at least this must be it – I couldn't see where it was made 100% clear tbh).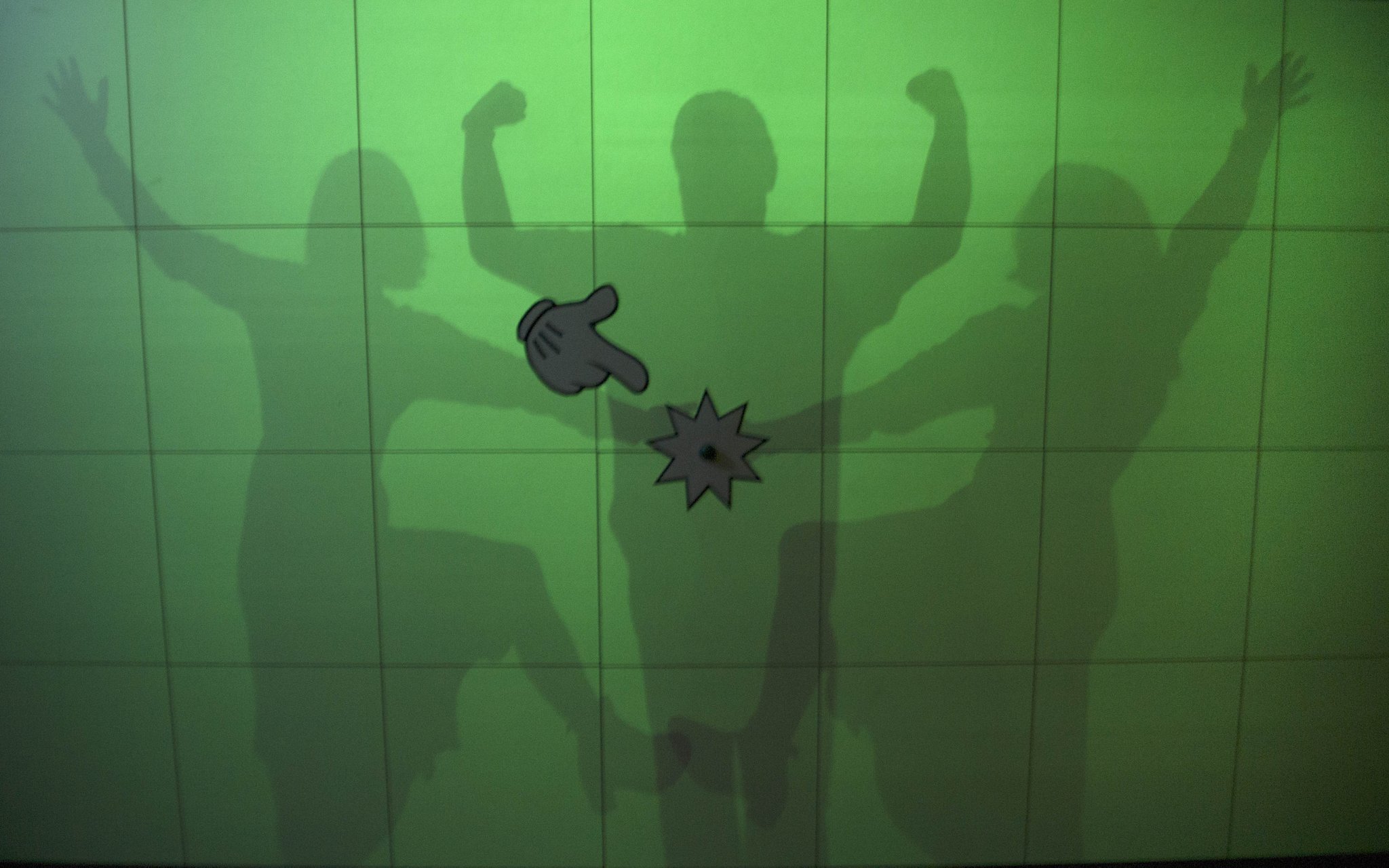 Of course Goscinny had been working with Uderzo during this time. One of the things they worked on was Luc Junior which (as shown in the exhibition) has flashes of the style of Asterix, eg in encountering overconfident pirates who are humiliated by unconventional means (in the strip: yanking their ship in with a giant mechanical hand and kicking it away again with a giant mechanical boot). I've learnt since that one even ends with a banquet scene. Goscinny and Uderzo enjoyed working together though they seem to have felt a bit limited by this project as the brief was essentially to do a knock-off Tintin.
Goscinny felt limited in several ways at the time, notably that as a writer he was usually uncredited as his content was automatically the property of the magazine. He supported a charter to the power of publishers. This led to him being fired and some of the other creatives including Uderzo quitting in sympathy. They went on to found Pilote.*
Goscinny and Uderzo's first really original creation together was Oumpah-pah – a bold, strong Native American hero. Although it ran for only a short time, it was considered a classic, and a forerunner to Asterix (the big warrior having a shorter, less naive sidekick). During the late '50s, Goscinny also created
Le Petit Nicholas
(with artist Sempé) and
Iznogoud
(with Jean Tabary).
When launching Pilote, Goscinny and Uderzo intended to create a distinctively French cartoon, initially settling on
Reynard the Fox
– intending the mythical trickster creature to be an answer to Mickey Mouse. But despite significant preparation the character was abandoned because Reynard had been used by a few other creatives. Goscinny looked back over French history and considered a few possibilities before settling on the Gauls, noting that although tales of Vercingetorix would be familiar to everyone in France from when they were children. Those who remembered being gravely told of the warrior laying his arms at Caesar's feet would particularly enjoy a comic version. Despite this, no one had really 'done' the Gauls before.
Uderzo immediately began sketching tall, muscular, striking warriors to represent the Gauls, but Goscinny stopped him, explaining that he didn't want to go down the American superhero route with handsome main characters as he felt readers always resented them a little. (Goscinny, a mischievous imp of a man, joked that he felt this more than anyone.) He wanted the hero to be a short, scrawny, funny-looking man who used cunning before fists. (This became Asterix.) Uderzo agreed, but argued that not all the Gauls should be like this – perhaps some would be more like the classic heroes he'd sketched to provide balance? They eventually settled on the immensely powerful (but still funny-looking) Obelix.
Again, although the exhibition is called Asterix in Britain, and there is a certain amount of material about the series, a lover of the books will feel there could be more. For example, it would have been interesting to know about how they'd approved some of the books in detail (those done before Goscinny's premature death at least). For example, I know they went an larged it in Corsica before doing that book and all the references to long-running petty feuds, reactionary attitudes to men and women, vote-rigging, excessive patriotic pride and lethal cheese were well researched.
Likewise, although Asterix books translated into a variety of languages are on show, there is nothing about the role of translation in Asterix. Again the title of the exhibition might suggest that there would be something about the extent to which the jokes in British Asterix books closely resemble those Goscinny put in and to which the translator (
Anthea Bell
, who is somewhat revered by translators – she also worked on some of Goscinny's other works) had to delete or ignore them and put original ones in.
Still, it's quite good fun. There's a bit in the middle with helmets and soft toy roast boar legs to pose with – even a menhir you can be pictured carrying like Obelix.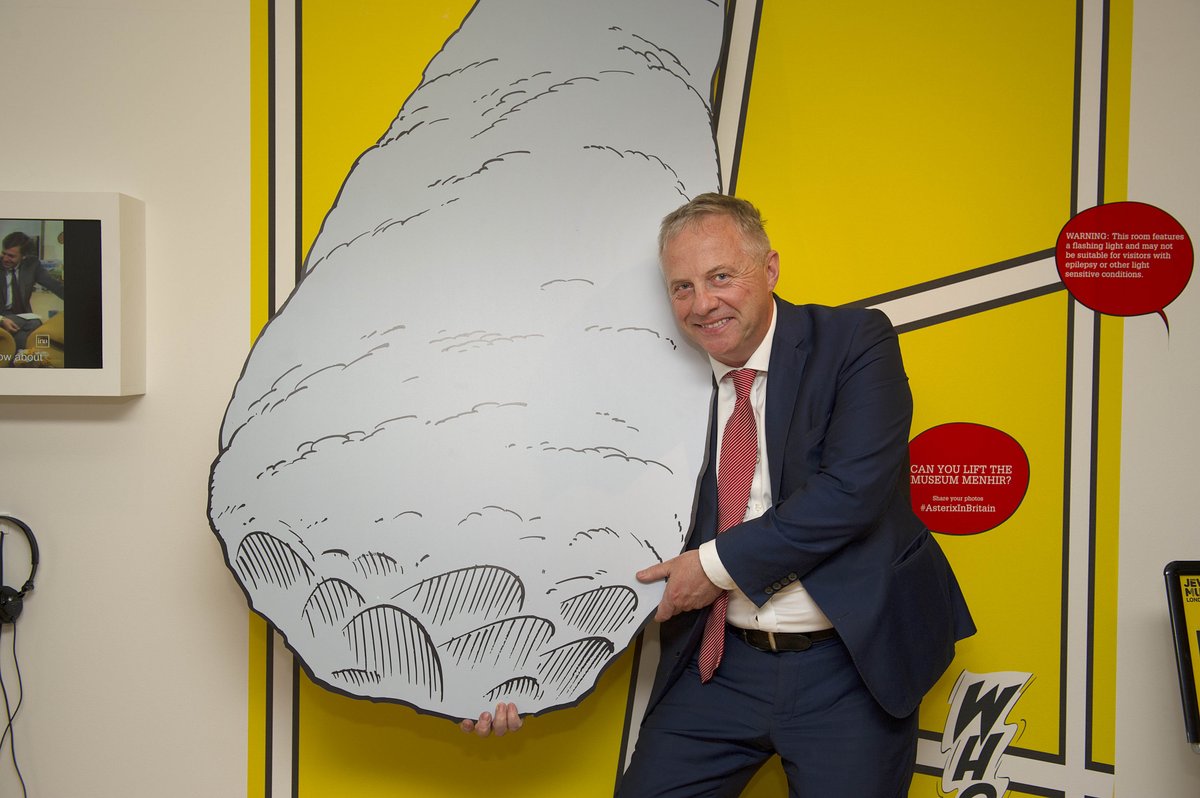 Not convinced Obelix would be impressed with John Mann MP's menhir-carrying technique
(or his pro-
Brexit
voting record come to that)
Also, if you don't get a lot of in depth on the how, you do get a sense of how much Goscinny and Uderzo enjoyed creating Asterix. Aside from the video discussing Asterix's origins, there's a cartoon which I think was created for a compilation by Goscinny and Uderzo depicting themselves sitting glumly in a café. Then they start to swap Asterix-related ideas with each other and rapidly descend into helpless, table-thumping hysterics until the alarmed café owner calls for help and they are carted away in ambulances still shrieking with laughter.
It must be wonderful to create something loved by people around the world and never fall out of love with it yourself. What more could anyone want?
www.ina.fr/video/CPF86646856
The film of Goscinny and Uderzo being interviewed about Asterix
(sadly without the all important English subtitles)
EDIT: Despite Proboards showing a preview of the film when I was writing this post, it's not coming through. It's
here
if you want a look.
---
The exhibition runs until September 30th.
*I find some of the timeline a bit difficult at this point. Looking it up there's some conflicting info around about which publications cartoons first appeared in, Goscinny's shifting status etc.