Post by champskees on Sept 25, 2015 3:27:17 GMT
BLOOD SWORD

Your world is the magical land of Legend. In Legend there are many kinds of Adventurer, each with unique skills and techniques for dealing with creatures of the supernatural. Those who rely on a good sword and the strength of their right arm are called Warriors. The practitioners of the magical arts are called Enchanters, with many deadly spells always ready at their fingertips. Sages are a class of ascetic monks - wise in ancient lore, but also skilful in the use of quarterstaff, bow and unarmed martial arts. Lastly there are the Tricksters; they are swift and dextrous swordsmen, but their true forte is the use of stealth, guile and cunning to achieve their ends.

These are the main rules governing the adventure. Worth reading them now, not necessary to have every sentence committed to memory. Making this the first post so you can flip back to this page later on.
TERMINOLOGY

The usual role-playing abbreviation is used to indicate different Dice rolls. This uses the basic format of

X Dice+Y

meaning that X Dice are rolled and Y is added to the total.

As an example, 2 Dice+3 means 'roll two Dice and add three' - giving a number from five to fifteen. Taking another case, 1 Die - 1 means 'roll one Die and subtract one' - negative numbers count as zero unless otherwise stated, so this would give a score from zero to five.
ATTRIBUTES

Each character is described by four attributes. These are:

Fighting Prowess a measure of how powerful a fighter the character is;
Psychic Ability an indicator of the character's resistance to attack spells and (in the case of an Enchanter) his or her aptitude for magic;
Awareness a difficult concept, as it encompasses quickness of thought, dexterity and general nous;
Endurance the attribute measuring the character's state of health; wounds are deducted from Endurance, and if it reaches zero then the character dies.


COMBAT ACTIONS
Combat takes place in Rounds, each of which represents about ten seconds of action. Each Round, everyone who is taking part in the combat gets the opportunity to perform one action if he or she wishes: to attack, cast a spell, or whatever. Actions are taken in sequence based on each combatant's Awareness score. The combatant with the highest Awareness acts first, then ... [We get the idea.] Combatants with equal Awareness scores act simultaneously. A combatant who is killed (reduced to zero Endurance) before his turn does not get to act!
These are the possible combat options and the circumstances in which they may be used. A character may choose any option for which he or she is eligible as his or her action for the Round:
MOVE
This action allows the character to
close and fight an enemy
, or to move to an exit (if any). If you take the move option while an opponent is fighting you, then (unless your Awareness is higher than the opponent's) you take an automatic wound. Once all surviving characters in the party have moved to an exit, the party may flee at the start of the next Round.
If you want to simply move away from a particular enemy, I see no problem with that either.

FIGHT
The character must have previously chosen the move option in order to be close enough to an opponent to fight. (But there are exceptions to this rule; sometimes your opponents are directly adjacent to you at the start of the combat, in which case an immediate attack is possible.)
DEFEND
You cannot attack in the Round in which you choose this option, but it has the advantage of making you harder to hit. If you defend, then your opponent must roll equal to or less than his Fighting Prowess on three Dice in order to hit you. You do not get to strike a blow yourself in the Round you are defending.
SHOOT
This is an option for Sages and Tricksters only. You fire an arrow at any one opponent. Unlike the fight option, you do not have to move first because (of course) arrows are long-range weapons. You cannot choose to shoot if an opponent is striking at you in the same Round - that is, you must dispose of any opponents who have closed to attack you before picking off others with your bow.
FLEE
Sometimes the text will give your party the option to flee from a fight. All surviving Adventurers must have made a move before the party can flee. When this option is taken, the entire party flees at the start of the Round, so their opponents get no chance to hack at them or cast spells as they run off.
CALL A SPELL TO MIND/CAST A SPELL IN MIND
These are options for Enchanters only. They are explained in the special section on Enchanters.
You can perform one of these actions in each Round. (Tricksters sometimes get the opportunity for two actions in a Round though, as explained later in their special rules.)
COMBAT RULES
The rules for combat are designed for ease of play [ha!] but require a short explanation.
When striking at an opponent (that is, when you take the fight option for a Round), you roll two Dice.
A score of equal to or lower than your Fighting Prowess means that your blow has hit.
If you hit, you roll a damage Die (or Dice, at higher ranks) to see how much of an Endurance loss you have inflicted.
If your opponent has an Armour Rating, you must reduce your Die roll for damage by this amount, and the result (if greater than zero) is deducted from the opponent's Endurance.
Take an example. You have a Fighting Prowess of seven and a damage roll of one Die. You are attacking a Troll whose Fighting Prowess is six and which also rolls one Die for damage. You have the higher Awareness, so you get the first blow. Rolling two Dice, you score a three; this is less than your Fighting Prowess score, so you have succeeded in hitting it. Next you roll one Die for the damage your blow inflicts. You get a six, but the Troll has an Armour Rating of two so only four points are deducted from its Endurance. If still alive, the Troll now gets to hack back at you. It rolls six on two dice - equal to its Fighting Prowess, so good enough to hit you (though only just!). For its damage Die roll it scores a one; because you have an Armour Rating of two this means that you lose no Endurance. The Troll's claws hit you, but scrape harmlessly off your studded leather jerkin. [Note for future reference: this world's Trolls suck.] The battle rages on for another Round ...
Two others factors need to be considered. If you defend, then your opponent must roll equal to or less than his Fighting Prowess on three Dice in order to hit you. You do not get to strike a blow yourself in the Round you are defending.
The other point concerns the move option. If you have a high Awareness and can move away from an opponent before that opponent gets his or her action for that Round, all well and good. If you try to move away from an opponent who has already attacked you earlier in the Round, however, then he or she immediately gets a second strike at you - and this is an automatic hit. For this reason, it is usually best to dispose of one opponent before you move to engage another.
ARMOUR
You will start your adventure with a suit of armour. This gives an Armour Rating of three if you are a Warrior or of two if you belong to one of the other adventuring types.
You cannot wear two suits of armour in combination.
WEAPONS
If you lose your weapon, you must reduce your Fighting Prowess and damage Dice rolls by two until you find a replacement.
SPECIAL CHARACTER OPTIONS
Sometimes there will be the option for a character of a given class to act - for example, 'If there is a Trickster in the party, turn to ...'. If such an option is taken, sometimes part of a section will be 'restricted' and printed in spoiler tags. This means that the player can, if he or she wishes, keep that part of the information withheld from the other players. You are NOT to read information under a spoiler tag unless you are playing that particular character.
For instance, there might be the option for a Sage to read an ancient piece of parchment. The book passes to the Sage player, who reads in his 'restricted' section:
'(SAGE) You decipher the faded runes on the parchment.
[It tells you that the safe route to the Emblem of Victory lies beyond the gold door.]
Turn to 559.'
The player can tell his or her companions what was said, but he or she is not obliged to do so (or tell the truth lol!).
In a situation where two or more players are both given the chance for individual action (say, the Sage could speak to a demon or the Trickster could shoot it with an arrow), the players roll Dice and highest score decides who acts. We will use that option as a last resort. If the team can reach majority on who should do something, we'll go with that first.
ENCOUNTERS
At all times players must specify their battle order. Battle order may be changed at any time except when in combat.
Generally (but not always!) the first player, being at the front, will be the one to get to hit by surprise attacks and so on. If players cannot agree on a battle order then they must adopt the following standard arrangement: first Warrior, then Sage, then Enchanter, then Trickster.
Encounters are almost always played out on a tactical display of the room, corridor or what-have-you. An example is shown here: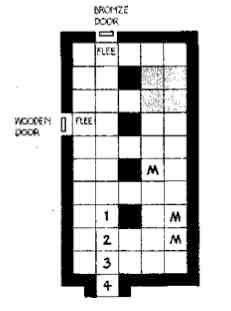 The numbers on this tactical map show where the Adventurers are standing when the combat starts. The Ms refer to the monster's starting locations.
It is possible to fight a monster only in an adjacent square, not across a diagonal, and it is not possible to move onto a square already occupied by a monster or another player. When a monster or character is slain, remove them from the map; in other words, you can step over or even stand on a fallen foe. You cannot move where there are no squares, nor on to a blacked-out square, which represents an obstacle such as (in the map above) a pillar or a large statue. Shaded squares can be moved through by monsters but not by players. In the map above, for instance, the shaded squares indicate a bed of coals which the monsters are immune to.
Note that as DM, I will control the enemies. Generally speaking, if they are in combat they will try to finish their opponent off first. Otherwise, they will likely act in a way that is congruent with their descriptions in the text.
ENCUMBRANCE

There is a limit to how much you can carry. You can usually have ten items at a time. If you are fully encumbered and find another item you want, you must discard one of the items you're already carrying (or give it to another player) in order to make space for it in your backpack.

Two special points need to be made. A quiver (available to Sages and Tricksters) will hold up to six arrows. The quiver counts as one item for encumbrance purposes regardless of the number of arrows it contains. That is, if you have a quiver containing six arrows then it still counts as only one item and not as seven items.

Your money pouch counts as one item too. As with the quiver, the contents are not relevant. The money pouch will hold a maximum of a hundred coins (of any type), but whether it is full or empty it counts as only one item.

MAGIC

Magic is the special province of Enchanters and, to a much lesser extent, Sages. The way in which magic functions for these classes is fully set out in their special sections (see pages 23 and 27), but there is one thing that every Adventurer must know about magic.

There are two types of magic. BLASTING spells simply inflict damage when they are cast, and if you happen to be the target there is not much you can do about it! You deduct the damage the spell does (less your Armour Rating) from your Endurance score. The other sort of spells are PSYCHIC spells, and these you can try to resist. To resist a PSYCHIC spell you must roll two Dice and obtain a score equal to or less than your Psychic Ability score. If you make this roll, the spell fails to work against you.

You will always be told whether a spell is of the Psychic or Blasting variety.

EXPERIENCE POINTS

Experience points are a measure of a character's skill and power. If you complete The Battlepits of Krarth successfully, you will be awarded a number of experience points to be divided among all the surviving characters. At the same time you add up any special bonus awards (or penalties) you were given during the adventure. The total experience points a character accumulates will enable him or her to rise in rank.

Basically, every 250 experience means plus one rank.

You start the adventure at second rank.

After successfully completing the adventure and totting up your experience points, keep the Character Sheet. Characters who emerge alive from the Battlepits are eligible for Blood Sword 2: The Kingdom of Wyrd.

GETTING KILLED

If you die, you die. You are out of the current game, and the surviving characters will have to go on without you (sob).

If all characters die, then it is game over.

I am possibly considering allowing a new character to join the party if one or more characters die but the party makes it to the next book.